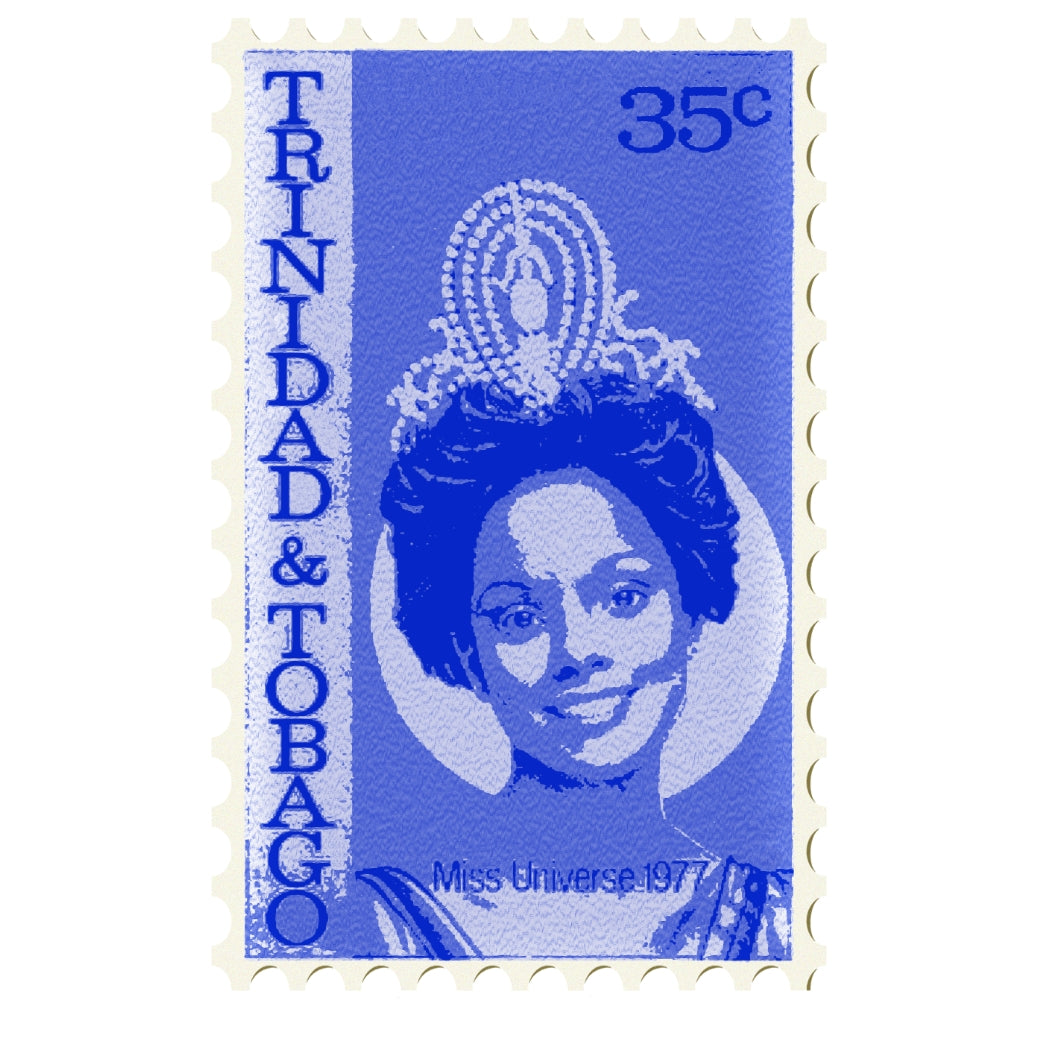 JANELLE PENNY COMMISSIONG
Janelle Penny Commissiong was born on June 15, 1953 in Trinidad and Tobago to Lucy Maria Joseph and Ruel Commissiong. She has one older sister, Gail Commissiong. Growing up, Janelle enjoyed many sports, including track and field. As a young girl, Janelle dreamed of becoming a flight attendant, but that job was not attainable for people of color, only the French Creole people. Throughout her life however, Janelle worked hard and made the most of all her opportunities.
When Janelle was five, her mother and father moved to Venezuela and she lived with her aunts. Her aunts taught her to be independent, honest and hardworking. Janelle would visit her parents once every two to three years when they visited for Carnival. After a few years in Venezuela, Janelle's parents moved to the states. Her sister Gail, joined them shortly after. Being separated for the first time from her only sister was very hard on Janelle. Janelle learned to be resilient and patient as she awaited her turn to join her family in the states, which she did. Once in the states, Janelle's family moved to Brooklyn, where she attended Erasmus High school. Janelle and her sister moved seamlessly into the new system and were hopeful for new opportunities and experiences. Her time in the states was formidable, but Janelle always had a desire to return to Trinidad when she got older.

When Janelle was 23 she moved back to Trinidad to open a boutique. She thought that a good way to promote her boutique would be to get involved in the local beauty pageant. Janelle never considered herself to be "pageant material," but entered the pageant anyway, and won. She knew she had won because she "happened to be the best."Because she won, she was required to attend Miss Universe. 


While at Miss Universe, Janelle was a natural. She competed against 76 other women and won awards for Miss Universe' Best Costume and Miss Photogenic. However, her most memorable experience during this time was when Miss Bermuda Connie Frith, complained that none of the contestants of color were being mentioned or promoted. Shortly after, the contestants of color began to see their images on print materials and other media outlets. The lack of promotion however, did not impact her performance and Janelle won Miss Universe. She was the first black woman to receive this international award. Janelle's achievement impacted women and people of color around the world.

Winning Miss Universe was just the beginning of Janelle's many accomplishments. In her official title as, "Miss Universe," Janelle focused on traveling and bookings, charity work, promoting products and the Miss Universe brand. In 1977, Janelle was awarded Trinidad and Tobago's highest award, the Trinity Cross. Her pageant photos were later used on the country's postage stamps. Also, a street in the Port of Spain was named after her. Between 2012-2015 Janelle served as the Vice Chair of a Tourism Development Company in Trinidad and Tobago. She also owned and operated Bowen Marine, her late-husband's boat business until about seven years ago, when she sold it.


Whether she was dealing with the separation from her older sister, gracing the stage for the first time in a beauty pageant, or learning to build boats with her hands, Janelle has always been determined to succeed, even if meant being the first to do something. Janelle's life is a true testament to hard work, dedication and courage. "When you think you can do something, just go ahead and do it." ~ Janelle 'Penny' Commissiong
Janelle 'Penny' Commissiong was selected as HOMMEWRK's first muse because she represents that anything can be achieved if you believe it in your heart and try. Janelle "Penny," was the first to do many things and paved the way for others to follow in her footsteps.
Now that you have read about Janelle 'Penny' Commissiong, It's time to DO YOUR HOMMEWRK..
The Hibiscus
Low top panelled suede and soft leather in red. Tonal lace up closure. Semi- transparent TPU toe box and TPU logo at outer-side. Embossed HW logo on leather tongue. Behind the tongue there is a hibiscus symbol. Two-tone foam rubber midsole. Rubber outsole in pink.
CARNIVAL BLACK (Curriculum II)
The story continues with our "Carnival Black" shoe, staying consistent with the same beautiful materials that was premiered in the first launch. The semi- transparent toe box, brushed suede, and soft leather in an all-black colorway. We did add a few more details to this shoe, multiple lace color options, gold emboss logo on the tongue, and the first tri-color glow in the dark sole. Our hidden gem behind the tongue is a gold steel pan which nods to the history of Steel Pan in our country and the amazing "Panorama" an annual
music competition of steelbands from Trinidad and Tobago which usually takes place around carnival.
Carnival Black is an homage to the rich culture of Trinidad and Tobago, particularly our Carnival that takes place every year right before Lent, a celebration filled with elaborate and beautiful costumes, Soca music, Steel pan and dance processions. There is so much more to the history and origin of our carnival, yet you would have to "Do your Hommewrk."would have to "Do your Hommewrk."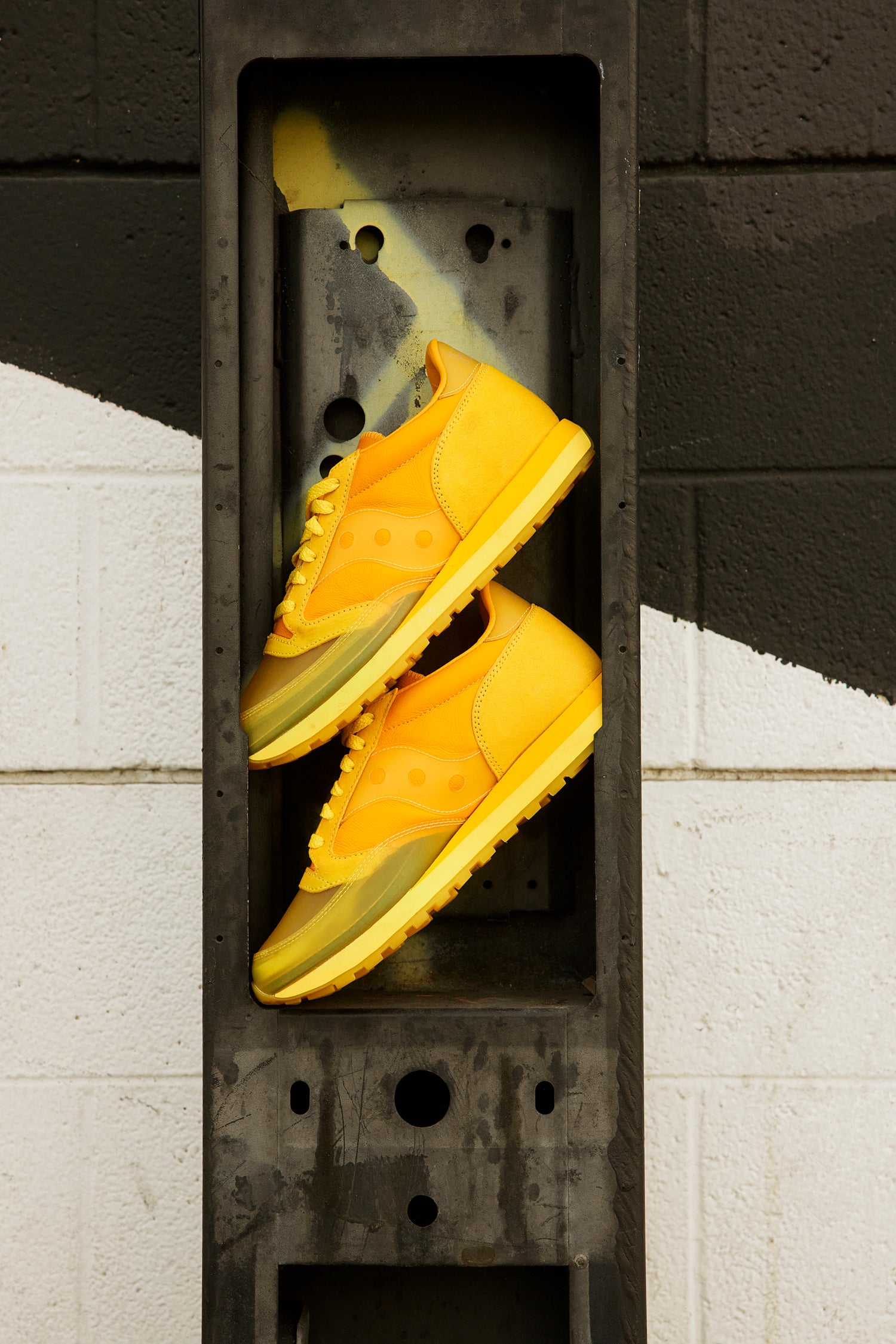 The Lunch Pails (Curriculum III)
School Lunch, Lunch Money, or Free Lunch. When it comes to that time of the day where universally we all take 30min to an hour for a Lunch Break. One thing stands in the middle of it all for many years now. The Lunch Pail. Some say Lunch box. Some of us used paper bags and some of us whatever our parents or adult self can find to put a pre-made meal into. We named our 3rd installment for the Hommewrk x Saucony Jazz release the "LunchPale's "because of our own Principal Jame$. In Trinidad and Tobago, where Principal Jame$ was born, the term "Lunch Pail" is most used. Especially during his times in first primary (Elementary School). Principal Jame$ attended Fatima RC, a Roman Catholic school in Trinidad and Tobago before coming to America. During this precious time in school our principal has a very strong and fond memory of carrying a yellow Lunch Pail to school. Boiled Egg Sandwich and Drink every day. Schools in Trinidad and Tobago didn't provide free Lunch back in those days. Only a snack like a Biscuit (cookie) and milk.These Lunch Breaks are where our principal met family for the first time, met friends for the first time and started learning communication skills that would pay off in his adult life like you would never imagine. 

This Summer we wanted to bring back that nostalgic feel for our students. Nowadays fast food, Postmates and going to restaurants are how many people eat every day. Principal Jame$ included. With the Lunch Pail's we want to PUSH that energy of communication through Lunch Time. We want to hear our students "Lunch Pail Stories". We understood and noticed over the last 2 years since the Pandemic and Quarantine, that people have been hesitant to communicate with each other. Especially with people who we may not know. Our Lunch Pail sneaker is the shoe we want to cause a conversation. Be the Talking Piece. Becoming comfortable with the uncomfortable is what helped our Principal Jame$ get this far in life. We challenge our students when you receive your pair of Lunch Pail's to go out and start a conversation with someone you may not know. 

Love Students, 
Principal Jame$ - Hommewrk 
Maxi Blue
All around the world there are many forms of transportation, from Trams, rickshaws, ferries, and trains, the list goes on. However, the inspiration for our final colourway comes from a particular vehicle of transport which you can find cruising about in the streets of Trinidad & Tobago. The "Maxi Taxi" privately owned and operated minibuses that are used for public transportation, with fixed routes and fares there is a maxi to take you where you need to go, colour coded for designated locations. We have the yellow stripes which operates in Port of Spain, red stripes for Eastern Trinidad, green stripes for South Trinidad, brown stripes for southwestern Trinidad, black stripes for Princes town, and lastly but not least our star Maxi the blue stripes hence the name "Maxi blue" which operates around the island of Tobago. The Blue band bus mainly caters to transporting students safely to their schools around the island. 
 The blue band Maxi is the main inspiration for our final colourway of the Jazz 81 collaboration with Saucony. The Maxi Blue is just as beautiful and vibrant as its previous primary colour peers, staying in theme with the shades of said colour. The same quality materials continue with the use of the semi- transparent toe box and accents, brushed suede, and soft leather making up the main body. As we conclude our story, we hope that you enjoyed learning about our heritage and inspiration behind this collaboration. Till the next curriculum students, remember to always "DO YOUR HOMMEWRK!"